The 107th edition of the Tour de France 2020 is one of cycling's three Grand Tours. Originally scheduled to start on 27 June 2020, but it was postponed until 29 August 2020, due to the Coronavirus pandemic in France.
This year Tour de France kicks into gear on 29 August in Nice to finish in Paris on 20 September. Tour de France consist of 21 day-long segments (stages) over a 23-day period and cover around 3,500 kilometres (2,200 mi).
The new map for the 2020 Tour de France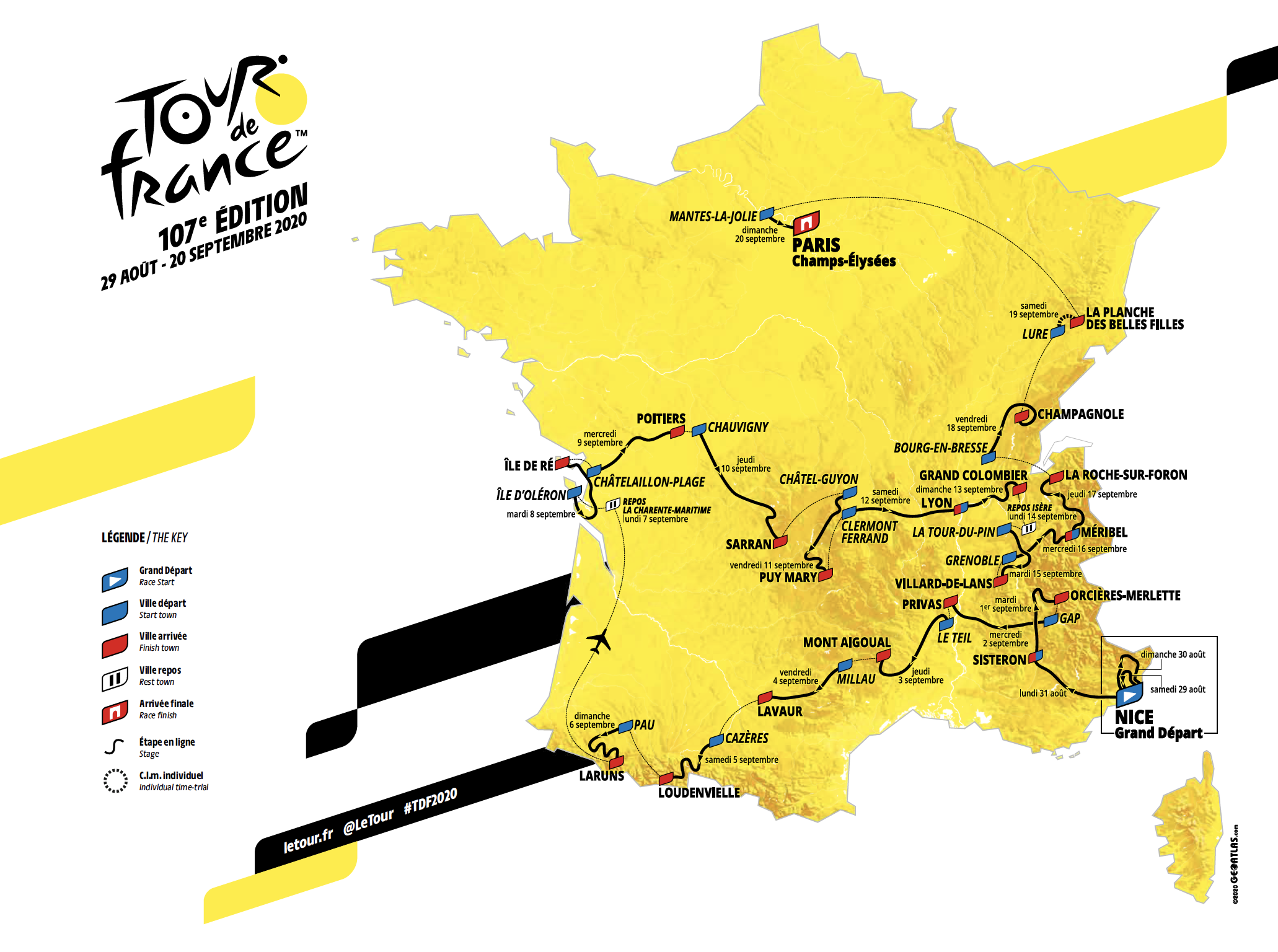 Also Read: What TV Channel is the Tour de France 2020 on?
Tour de France Schedule 2020 & Winner
| Stage | Date | Distance | Depart | Arrive | Winner |
| --- | --- | --- | --- | --- | --- |
| Stage 1 | Sat., August 29 | 156km | Nice | Nice | Mike Teunisse |
| Stage 2 | Sun., August 30 | 187km | Nice Haut Pays | Nice | |
| Stage 3 | Mon., August 31 | 198km | Nice | Sisteron | |
| Stage 4 | Tue., September 1 | 157km | Sisteron | Orcieres-Merlette | |
| Stage 5 | Wed., September 2 | 183km | Gap | Privas | |
| Stage 6 | Thu., September 3 | 191km | Le Teil | Mont Aigoual | |
| Stage 7 | Fri., September 4 | 168km | Millau | Lavaur | |
| Stage 8 | Sat., September 5 | 140km | Cazeres-sur-Garonne | Loudenvielle | |
| Stage 9 | Sun., September 6 | 154km | Pau | Laruns | |
| Stage 10 | Tue., September 8 | 170km | Ile d'Oleron Le Chateau | Ile de Re | |
| Stage 11 | Wed., September 9 | 167km | Chatelaillon-Plage | Poitiers | |
| Stage 12 | Thu., September 10 | 218km | Chauvigny | Sarran Correze | |
| Stage 13 | Fri., September 11 | 191km | Chatel-Guyon | Puy Mary Cantal | |
| Stage 14 | Sat., September 12 | 197km | Clermont-Ferrand | Lyon | |
| Stage 15 | Sun., September 13 | 175km | Lyon | Grand Colombier | |
| Stage 16 | Tue., September 15 | 164km | La Tour-du-Pin | Villard-de-Lans | |
| Stage 17 | Wed., September 16 | 168km | Grenoble | Meribel Col de la Loze | |
| Stage 18 | Thu., September 17 | 168km | Meribel | La Roche-sur-Foron | |
| Stage 19 | Fri., September 18 | 160km | Bourg-en-Bresse | Champagnole | |
| Stage 20 | Sat., September 19 | 36km | Lure | La Planche Des Belles Filles | |
| Stage 21 | Sun., September 20 | 122km | Mantes-la-Jolie | Paris Champs-Elysees | |
N.B: Monday, September 7, 2020 and Monday, September 14, 2020 is Rest Day